Hi,
I was recently shown the A-Forge framework by a friend who is also interested in Robotics and A.I. and I have to say I'm incredibly impressed with it. It's intelligently designed,implemented and is just a complete pleasure to use.
I recently bought a NXT Lego kit and have had the chance today to start implementing a webcam based turret that will track objects around the room. Pretty standard startup project, except mine will have the voice of a Portal turret
Using the AForge I've been able to make incredibly fast progress; no more reinventing the wheel, hurrah!
Here is a screen shot of my current progress: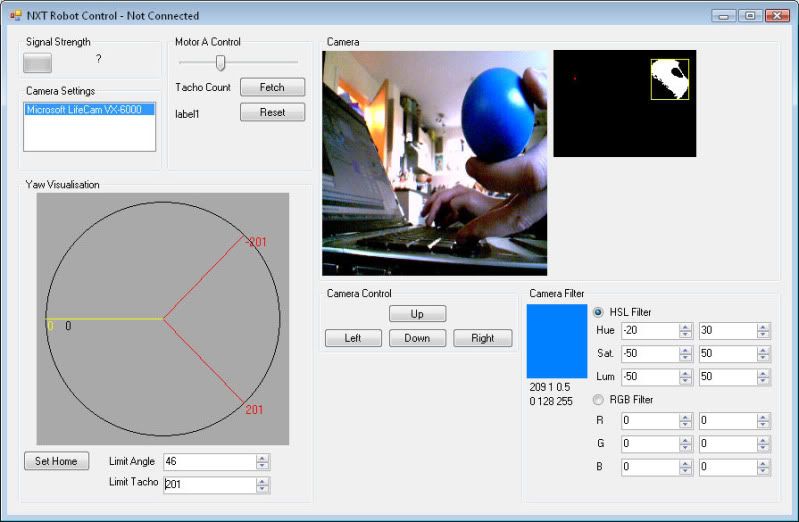 It currently just reduces the image size (to counter noise) filters to a specified colour, applies a threshold to the result and finds blobs. The largest blob is marked in yellow and will be the one the turret tracks.
I've written a class that wraps the motor control that will automatically limit the turrets movement so it doesn't spin further than 180 degress and wrap my webcam cable up. The bottom left graphic shows the limit with red lines. The yellow line is the turrets current direction. This is still work in progress.. I'm discovering the pros and cons of the Lego motors regarding accuracy. Looks like I'll be having to poll the tacho count much more than I'd like, oh well.
One more thing, avoid Microsoft Lifecam vx6000.. earlier today the video on mine just became noise. Seems to be a hardware issue, same deal on other PCs. Luckily I had two! Though that puts any stereo webcam work on hold for now...
Anyway just wanted to say thanks for AForge!